We were tasked with helping ALSAC/St. Jude Children's Research Hospital unlock Gen Z and Multi-cultural audiences through the delivery of culture-first experiences, growing brand engagement and relevance.
St. Jude Values Alignment
1. They foster unity through community.
2. They are diverse, inclusive and multicultural.
3. They innovate with excellence.
4. They are compassionate, empathetic and engaged.
How can St. Jude become the charity of choice for Gen Z?
How can you find deeply meaningful and personal culture first experiences that engage with this audience, and feel relevant to them?
How can you activate the Digital Advocates, Budding Entrepreneurs, and Creative Expressionists help you accomplish this?
Strategic Recommendation

​​​​​​​
St. Jude Invest would be a new sub-brand of St. Jude that aims to build long-term strategic partnership initiatives with Gen Z that are engaging, culture driven and digital first.
In a digital world run by influencers and activists, clout has become a word that speaks to social currency, which often translates to actual currency. But how is clout measured? Is it followers or engagement rates? One immediate way to understand someone's social media influence is the blue check. A blue check by someone's name on Instagram, Twitter or Tik Tok means the social media channel literally verified their clout. 
But we know Gen Z wants social accountability to be a tabelstake. So how do we reimagine the blue check for more accountability? 
To obtain a red check mark, participants must first raise $5,000 through St. Jude's "Create Your Own Fundraiser" Campaign. 
But to maintain the red check, participants must volunteer two hours a month for St. Jude. 
With Gen Z growing up in a volatile economy and an ever-widening wealth gap, opportunities are not necessarily what they once were for younger generations.
That's why we want to introduce a Gen Z St. Jude credit card called St. Jude Invest. The credit card would be in partnership with a larger bank, for example JP Morgan Chase. 
The St. Jude Invest Card would be designed for young entrepreneurs who want to build a financial safety net for their families and for their future business pursuits, whether it be creating an online persona, starting their clothing brand or creating a digital art program. The St. Jude Invest Card is there to invest in them. 
Different from other cards and reward programs on the market, this program is specifically designed for the young entrepreneurs. With access to financial literacy courses, on demand financial advisors and easy to use interfaces, this makes getting finances in order and preparing for future investments something easy and attainable for a teen. 
The Cause Component​​​​​​​
And we know what you're thinking, what does St. Jude get out of the deal? Points. The bank would set up an endowment program for St. Jude where the points earned or the cash back for these investments would go into a fund that would annually be donated to St. Jude on behalf of the entrepreneurs. Think of it as miles or flight points, but instead they go to charity and are backed by the banks. 
And why would a bank want to do this? Chase and its other big bank counterparts are seeing a lot of shifts in the business. With new tech-driven brands such as Stash and Venmo threatening to disrupt banking, Chase needs a way to successfully connect with Gen Z audiences.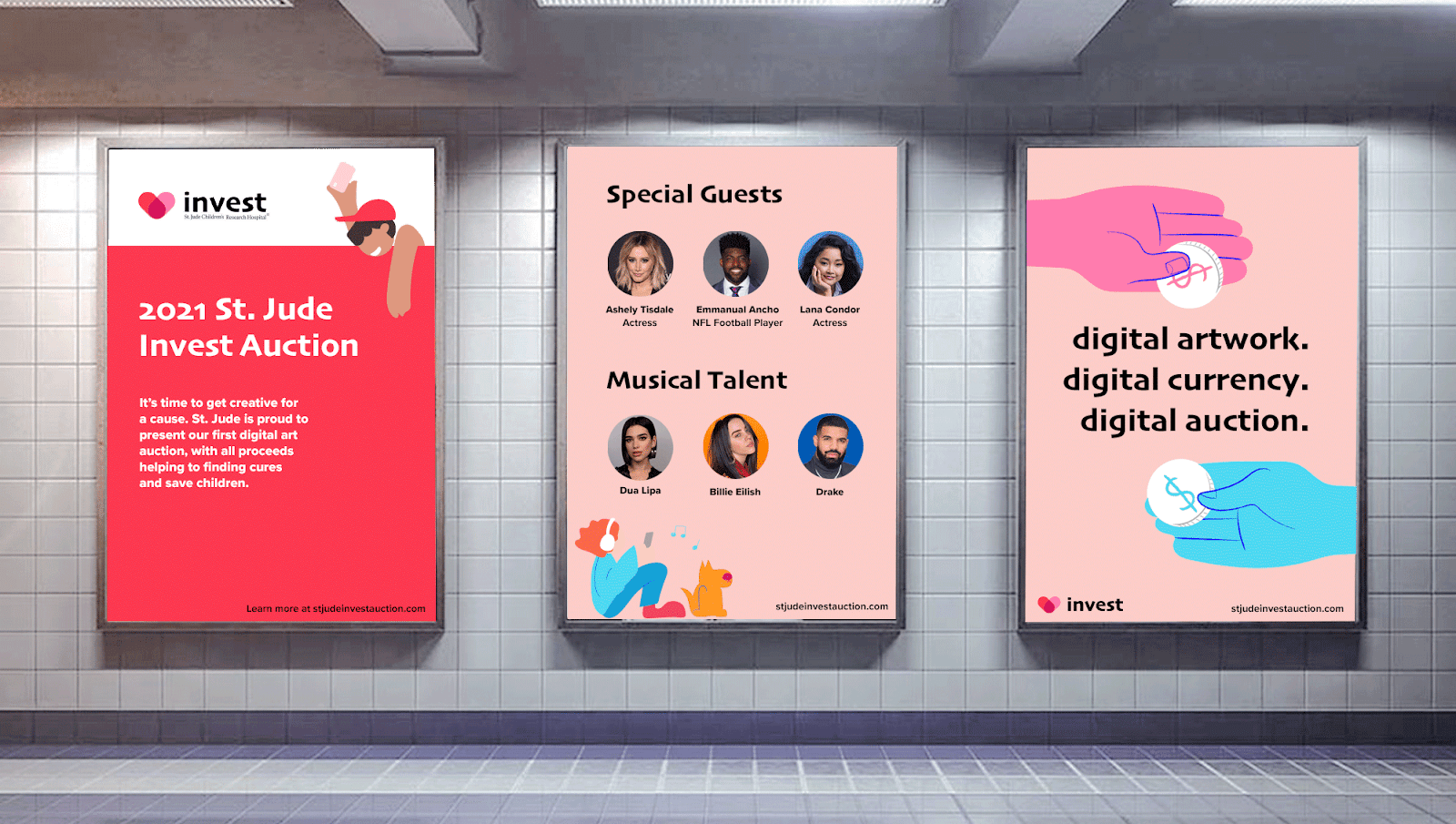 The St. Jude Invest Auction
Introducing the St. Jude Invest Auction, an annual non- traditional art auction fundraiser.  The event will be part challenge, part entertainment and part auction with the fundraising mechanism being NFTs.
Let's talk about how this works. Step 1 is the ask. First,  we challenge influential Gen Z artists & creatives to create digital art pieces based on the year's prompt. This prompt could be anything from 'show us the St. Jude of the future' to ' show us what the end of childhood cancer looks' - allowing for incredibly unique and inspiring artistic expressions. The submissions will be created into NFTs and hosted on our online gallery event website. People can view the artwork as it goes up and look at the starting bid amounts listed. They can also vote for their favorites!
Now is Step two- the event! This big livestream auction will be held across Twitch, Instagram, Tik Tok and Twitter, where a huge countdown will occur before opening the NFT art pieces for bidding.

The event will have corporate brand sponsors, celebrity emcees and musical talent, helping to make the auction entertaining. We see this as a unique take on traditional fundraising activities, but with more cultural relevance and reach. Think of this as similar to St. Jude PlayLive, but with deeper pockets. And of course, all proceeds from this event will go to St. Jude.
Credits: Jamie Loper, Ricardo Saca, Sae Hoon Jang, Eugene Hill
SVA Masters in Branding Program, ALSAC/St. Jude Children's Research Hospital